Hey, I'm Rebecca.
I'm a Product Designer who enjoys translating thoughtful design strategies into beautiful and impactful experiences. 5+ years working with a range of different clients.
Except for doing design, I'm currently into quantitative data analysis, improving my coding skills and growing knowledge about wine (but not at the same time).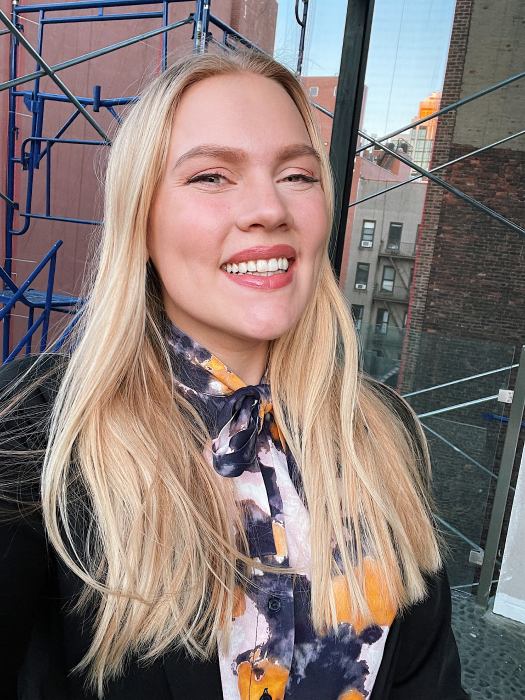 It all started...
When I was in high school. What I enjoyed the most was creating presentations, experimenting with typography and my favorite project: creating the design for a news paper magazine. In art class, I spent hours exploring the materials, textures and techniques. It took me to a world of imagination – giving shape and colors to what is in your mind is challenging and equally rewarding, all of it fascinated me.
When my art teacher suggested that I apply to art school, I never considered it as a valid career path. Instead, I persued studies in economics. It was great, but after one year I missed being creative. I discovered the Bachelor program Digital Design and Innovation, created by Pontus Wärnestål – an award-winning Service Designer and Human-Computer Interaction researcher. I applied and got in. I had an aha-moment when I realized that I could design methodology to solve business problems. The rest is history.
My design training in combination with my studies in economics has shaped me into the designer I am today. I'm obsessed with details that makes a design lovable but I don't drift away from the business values.
10 random facts about me
My cat's name is Zelda, but I have never played the game.
Favorite food: Barbecue. Nothing beats cooking food outside in fresh air and beautiful weather.
I've never been in a project where I haven't done user research. Qualitative research is a key method in my toolbox. Talking to real users is my bread and butter. been working in a design project where I haven't performed user research. Qualitative research is a key method in my toolbox. Talking to real users is my bread and butter.
I get easily obsessed with diving into and learning things on a regular basis. This sometimes worries my partner who reminds me to eat when I'm in hyper-focused.
I've always had difficult times learning new languages, it doesn't come naturally to me.
I've always been interested in programming. That's why I took a leave of absence in 2020 to attend a web development boot camp for 3 months. I loved every second of it.
I'm highly influenced by the Lean Startup Methodology by Eric Ries and Steve Blank.
I have a big interest in wine, my long-term goal is to become a sommelier. For the short-term: Attending to as many wine tasting events as possible.
I'm a self-proclaimed psychologist watching reality dating shows and giving relationship advice to people I've never met.
If it tells you anything I'm an ESTJ, an Executive.