TRR (2019)
Matching employers with job-seekers
Identifying opportunities through Design Thinking.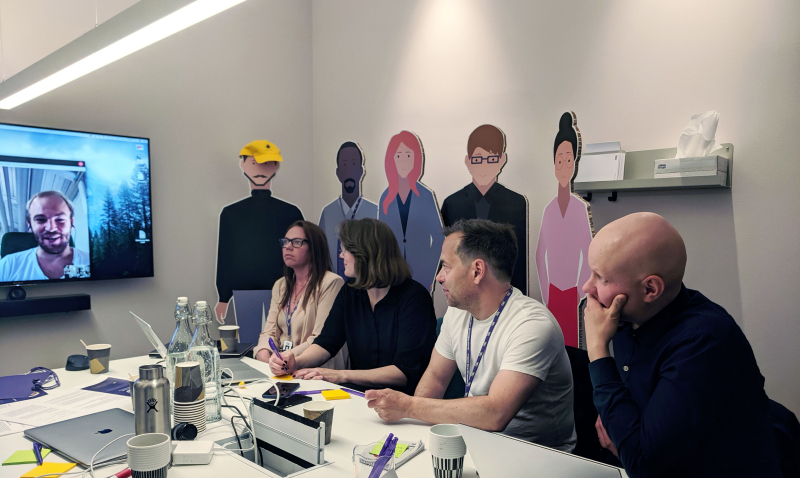 TRR wanted to improve their current digital offerings to employers. In 2019, TRR mostly helped with redundancy handling and recruiting candidates. However, TRR realized they could do more with their knowledge about the labor market and being experts in employment transitions. Therefore, my team was formed with the goal to identify these opportunities and execute on them.
Part I: Talk to employers 🕵️‍♀️
I started with the basics: research. First months of the project, I interviewed 20 representatives of the employers side. I analyzed those interviews to create five personas to describe users' needs, goals, attitudes and behavior patterns.
It became clear that the possibilities were endless, and there was so much we could do to bring value to employers. Now we needed to find the one thing that would make the biggest impact on TRR's business. For us that meant narrowing our focus down to HR managers at medium-to-large companies.
As a next step, I facilitated a series of workshops to delve deeply into the desires and needs of our primary persona. I facilitated impact mapping sessions to define our wanted effects and what we could do: how could we support their goals?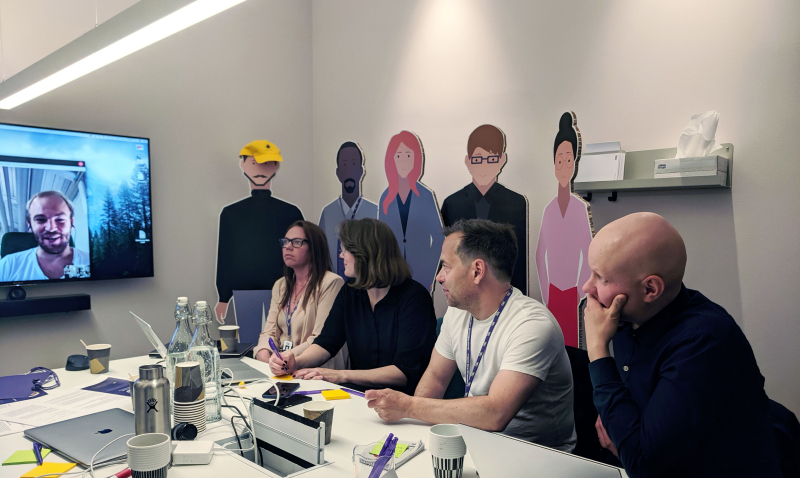 Part II: Explore ideas 💡
At this point, we decided to address our primary persona's need for qualified employees. To explore different ideas to meet this goal, I facilitated a Design Sprint: a 5-day process where we explored and tested ideas. We had one tested prototype at the end of it, and a bunch of new hypotheses which we needed to evaluate further.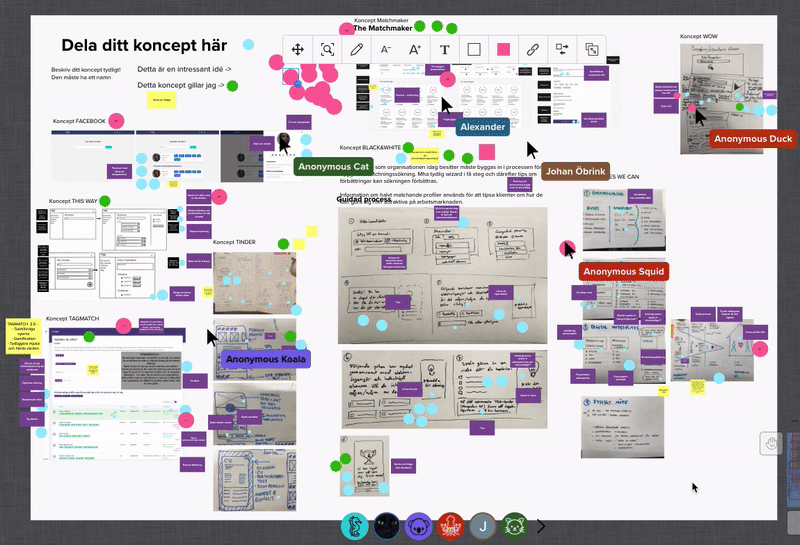 The winner
The idea which got the most votes was to let employers search for jobseekers online based on the requirements of the position. We wanted to match employers with job-seekers allowing companies to search for competence among TRRs wide range of candidates.
Part III: Refinements ♻️
We revised the prototypes and included more refined ideas as we went. We tested the idea with some employers, who found it interesting for recruiting competencies that are hard to find. HR managers saw great benefits in getting in touch with candidates through TRR before they reached the official labor market. Recruitment agencies also found value in a unique access to potential candidates.
We wanted to develop a first iteration of the service with only the most important features. We continued to refine the functionality in parallel with development. We wanted to know what features were the most important and how the service would fit into the daily work.
So we worked with hypotheses and evaluated them iteratively through user tests with prototypes and user interviews. From the research, we knew we needed to accomplish three things:
Employers wanted to find candidates with industry specific competencies. For example, programming languages or industry specific software.
We needed to make recruiters able to quickly evaluate if the candidate is a good fit to the role and the company. Many recruiters also told us they wanted to review the career goals of the candidates before considering contacting them.
We needed to provide quick responses with the matching candidates, not keeping the user waiting when adding and removing search filters.
Present the right candidates
A big challenge was to make sure the results of the search were perceived as relevant to recruiters. We needed to figure out if we should present candidates who fulfills:
All of the criterias
At least one criteria from each category
Any of the criterias
We also explored different solutions to this challenge. We tried to separate the search results list in two, one with candidates who fulfilled all of the criteria and a second where we included the candidates who were missing some criterias. In the second one, the missing criterias were also highlighted to allow the user to quickly evaluate whenever to consider the candidate.
Result
Although we had a first basic version of the service almost ready to be released, we hit some big trouble. Instead of releasing it to employers right away—which was our original plan— the management team postponed the launch of the service until employers could use it as an internal tool. This set us back, but I know that we did a lot of good work, and are proud of what we achieved:
A recruitment tool to continue to develop together with the users. We found great support from our user research that employers couldn't wait to start using our service.
A base of extensive user research to build upon. The majority of the work I did was establishing a knowledge base for the organization to continue improving and identifying opportunities from.
We were the first team at TRR to use the design sprint as a method to involve the stakeholders in the organization and solve problems together.
Demonstrating the power of design where we showed the organization how to develop meaningful and valuable services using a user-centered approach.

About TRR

TRR is a non-profit foundation. They are working with with employment transitions and working life, contributing to learning and mobility within the Swedish labor market. Their activities are aimed at companies in the private labor market, trade union representatives, and company employees. Learn more about TRR.